R&D
Research and Development System and Initiatives

Four research groups,
over fifty researchers in our R&D organization
Each laboratory elaborates R&D on organic and polymer synthesis techniques, and very high levels of purity along with our customers' demands and market trends on one hand, and on new chemical compounds, new functionalities and applications, and more efficient techniques for synthesis on the other hand. The four research groups consist of: Photosensitive material research group (R&D on photosensitive materials used in producing semiconductors); Energy research group (R&D on ionic fluids and electrolytes);Aroma chemical research group(R&D on aroma chemical); and Next-generation technology research group (R&D on nanotechnology and biotechnology)

Three actions at Photosensitive Material Research Group to compete in the World Market
Cooperation with academia keeping up to date with the newest research
All of the R&D groups are working on the latest technologies in collaboration with specialists in the respective fields (e.g., the University of Tokyo and Waseda University).
Guest Lecturers from Major Universities
We have an Organic Compound Study Group headed by Dr. Kenji Mori, Organic compound technology is one of the core competences of our company. We also ask Dr. Mori as a consultant on organic synthesis for the entire company. The central role of polymers in our products makes polymer chemistry a crucial area of interest.
International Academic Conferences
Since the very beginning of R&D on photosensitive materials, we have let our young researchers participate in international conferences about lithography of semiconductor in the States to enhance their knowledge for the products as well as the network of contacts.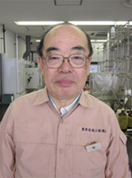 Consultant : Professor Kenji Mori
Professor Kenji Mori is a global leader in the field of bioactive natural products, in particular the synthesis of pheromones. In his research laboratory (Mori Research Lab), he both synthesizes pheromones himself, while instructing his lab members in organic synthesis, and instructing others in a rotating lecture style.
<Profile of Professor Kenji Mori>
2006~
Consultant at Toyo Gosei Co., Ltd (to the present)
2001~2003
President of Japan Society for Bioscience, Biotechnology, and Agrochemistry
2002~
Research Consultant at RIKEN (to the present)
1995
Professor Emeritus, The University of Tokyo / Associate Professor, Tokyo University of Science
1993~1995
President of The Society of Synthetic Organic Chemistry, Japan
1992~1993
President of International Society of Chemical Ecology
1978
Associate Professor, Faculty of Agriculture, The University of Tokyo
1962
PhD in Organic Chemistry from The University of Tokyo, Graduate School of Agricultural and Life Sciences