Flavor and Fragrance Material Division


All Aromas: Fragrance & Flavor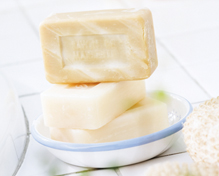 With our over 50 years' distilling-purifying and synthesizing technologies, we produce high and stable quality aroma chemicals from highly purified chemical compounds used for the daily-use products such as shampoo and body soap, and for the flavors of food products. We have achieved KOSHER and HACCP as well as ISO certification, implementing thorough quality management.


High Quality Delivery Systems
In order to respond to worldwide customer needs, we set up a speedy delivery system, by establishing a logistics warehouse in Rotterdam, Holland.

Outsource the synthesis of your chemicals to Toyo Gosei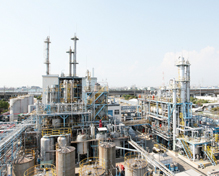 Since its foundation, Toyo Gosei has offered product ideas based on distillation, purification and synthesis technologies. We apply our know-how developed over the years to solve customers' production-related issues.
Let Toyo Gosei handle all your chemical synthesis outsourcing needs.


Introduction to Synthesis Technologies
●Dehydrogenation
●Oxygen oxidation
●Esterification
●Baeyer Villiger oxidation
●Epoxidation
●Acetalization
●Aldol condensation
●Etherification
●Precision distillation


Products
alcohols
2-Methylbutanol
n-Amylalcohol
n-Hexanol
n-Heptanol
n-Nonanol
n-Undecanol
1,2-Hexanediol
1,2-Octanediol
aldehydes
2-Methylbutanal
2-Methyl-2-pentenal
2-Methylpentanal
n-Hexanal
n-Octanal
n-Nonanal
n-Decanal
n-Undecanal
n-Dodecanal
Acids
2-Methylbutyric acid
2-Methylpentanoic acid
Hexanoic acid
n-Heptanoic acid
n-Octanoic acid
n-Nonanoic acid
Esters
2-Methylbutyl acetate
n-Amyl acetate
Isoamyl acetate
n-Hexyl acetate
3,5,5,-Trimethylhexyl acetate
Isoamyl butyrate
Methyl 2-methylbutyrate
Ethyl 2-methylbutyrate
Isopropyl 2-methylbutyrate
Hexyl 2-methyl butyrate
3-Methylbutyl 3-methylbutyrate
Ethyl 2-methylpentanoate
Butyl 2-methylpentanoate
Ethyl hexanoate
Allyl hexanoate
Allyl heptanoate
Allyl phenoxy acetate
| | |
| --- | --- |
| Ketones | Methyl n-hexylketone |