Logistics Division


Takahama Chemical Logistics Terminal:
High-quality and high-performance chemical logistics terminal
Advanced quality management system
Our logistics business draws upon our 50+ years of know-how as a manufacturer of world-class chemicals. A dedicated analysis laboratory conducts rapid compositional analysis and quality guarantees for shipments.
Optimally located
The Takahama Chemical Logistics Terminal is located in the center of Tokyo Bay. It is ideally situated just two minutes from the metropolitan expressway network. When the outer ring road is completed, the Terminal will become even more efficient as a transport hub.
High-capacity tanks for highly refined petroleum
The 43,000 m2 site is home to 65 storage tanks of various sizes, materials and functions. Total capacity is 55,400 kl, and there are 32 large tanks each with a capacity over 1,000 kl.56 tanks are suitable for storage of highly refined petroleum, and the overall tank lineup is designed to meet a wide range of customer needs.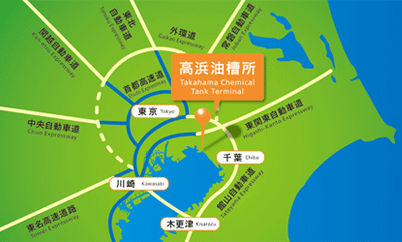 Support systems established at Toyo Gosei's state-of-the-art facilities allow import, storage and transportation according to the requirements of the customer.
You are welcome to inspect the Takahama Chemical Logistics Terminal – please ask one of our sales representatives for more information.


Maximum Loadings for Shipping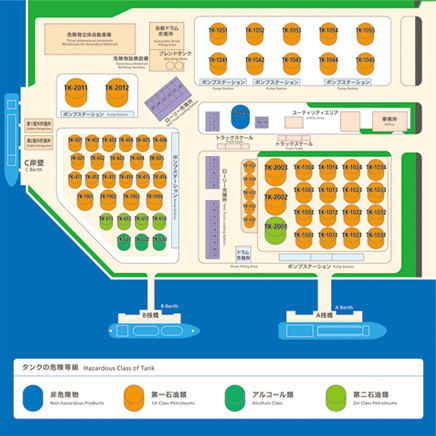 Equipment outline
●Site area
43,000m2
●Total storage area
55,400KL
●Number of tanks
65
●Comprising
2,000KL x 5
1,000KL x 31 (including 8 stainless steel tanks)
650KL x 12 (including 2 stainless steel tanks)
400KL x 17 (including 9 stainless steel tanks)
●Automatic high-rise warehouse for hazardous goods
Storage capacity 10,000 drums
●Indoor storehouse for hazardous goods
450m2
●Open storage space for hazardous goods
343.2m2
●Truck filling
25 stations
●Drum filling stations
5 automatic filling stations
●Truck scales
Maximum weighting capacity 40 tonne Length 15m x 2
●Boilers
1.5 tonne/hour x 2
●Refrigeration units
39.9 tonne x 2
●Liquid nitrogen
8,000L storage Evaporative power 600m3/hour
●Testing labs
Various analyses (in cooperation with New Japan Surveyors & Sworn Measurers Association)


Logistics Services
Providing the customer with high added value using the most up-to-date equipment.
Rapid service - capacity to handle 200 vessels per month, 200 trucks per day.

Receiving System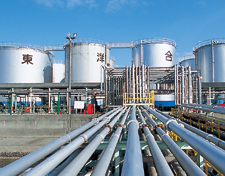 Berthing and unloading of vessels
Introduction of a one-tank, one-line system for loading work, with dedicated piping for transfer from berthed vessels to tank storage and to trucks eliminates the danger of contamination, and provides an efficient system for receiving and shipping.


Shipping System
Shipping System
All truck filling stations (25 lanes) have the height and area to handle large vehicles (e.g. ISO container trucks). Minimum filling time is 10 minutes per truck, and 20 minutes per ISO container truck.
Two 15-m weighing scales are employed for bulk movement within the site, one and the other are assigned for empty and loaded vehicles, respectively, with straight-through filling stations to ensure the smooth passage of vehicles.
Customer transport efficiency receives highest priority. The site is open for loading from early morning, and work continues uninterrupted throughout the day to improve vehicle turnaround, and thus reduce transport costs.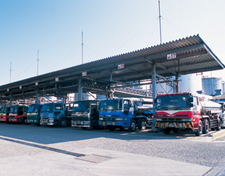 Transport System
A nationwide distribution network in cooperation with Chemicals Transport Co., Limited, a dedicated chemicals carrier, provides a transport service via trucks and ISO containers. This system ensures the ability to handle transport operations on both land and sea.


Storage Facilities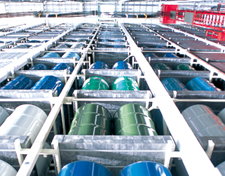 Fully automatic high-rise warehouse for hazardous goods
The automatic warehouse is able to manage the equivalent of 10,000 drums, drum-by-drum. This system provides an understanding at a glance of what is where, and when, and is able to handle multiple types and multiple lots efficiently in drums, 1 tonne containers, and small receptacles.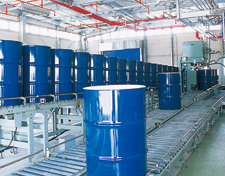 Drum Filling Stations
All drum operations, from delivery of empty drums, to filling and storage of filled drums, are handled indoors. An integrated system of indoor operations and accurate filling with fully automated equipment guards against damage and contamination of receptacles, and ensures error-free filling.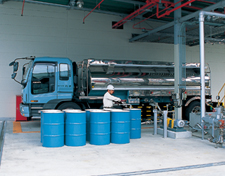 Hazardous Substance Filling Equipment
Equipment employed for hazardous substances filling allows refilling of substances irrespective of configuration. All substances, from Class 1 Petroleum substances, and oils which are highly dangerous, highly reactive, and with strong odors, can be handled.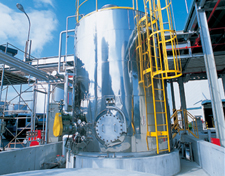 Blending Equipment
Equipment comprising 25kl and 50kl mixture tanks (304 grade stainless steel) fitted with mixing equipment, heating and cooling, thermal insulation, and deodorization towers allows mixing of difficult-to-handle chemicals to the desired ratios. Quality is assured through comprehensive chemical analysis.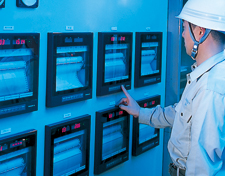 Temperature Control System
A large number of tanks are available for oils requiring control of heating and cooling. The temperature control system allows monitoring of stored products, and provides for comprehensive handling of difficult products such as hazardous and highly reactive chemicals.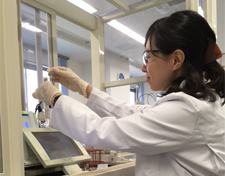 Testing Labs
A range of analysis equipment to provide a system is able to handle customer requirements. Personnel are available at all times (in cooperation with New Japan Surveyors & Sworn Measurers Association) for analysis of received products and to maintain strict standards for product storage.

Analysis equipment
Spectrometers / Karl Fischer moisture meters / Automatic titrators
Density meters and specific gravity meters / Color testers for oil-based products
Gas chromatographs / Gas chromatography mass spectrometers (GC-MS)
pH meters / Refractometers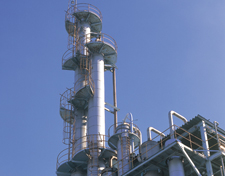 Ichikawa Distillation Equipment
The distillation equipment at the Ichikawa plant provides the ability to raise purity of stored products, and to respond immediately in the event of contamination.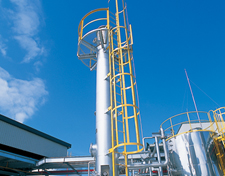 Deodorization towers
Care is taken with potential environmental problems (e.g. release to atmosphere) when disposing of oils with strong odors in the high-performance deodorization tower.

We welcome tours of our modern facilities. Contact one of our sales reps for details.